Who We Are
Since 1983, Technolink of the Rockies has built a strong reputation in the business community by focusing on customer-centric solutions and by linking businesses to advanced technologies. Technolink of the Rockies, widely known as Teleco of the Rockies, changed its name in 2015 to more accurately reflect the additional products and services the company has added to their repertoire. While providing phone systems to businesses has been our flagship, Technolink of the Rockies has clearly transitioned to an IT company.
Technolink of the Rockies is an IT company and unified communications expert that designs, deploys and supports the most cost-effective and productive solutions, such as video surveillance, cloud-based video conferencing and more. We service the entire Colorado Front Range including Denver, Fort Collins, Colorado Springs, Pueblo and Summit County. Our strategic partnerships allow us to span our services across the country. Our goal is to use our combined expertise to effectively integrate a variety of technology solutions.
We utilize a technology assessment process that starts with where you are, considers where your business is headed, then leverages the best mix of technologies to get you there. Combined with outstanding product knowledge and support, this unique approach maximizes ROI and productivity now, and as you grow.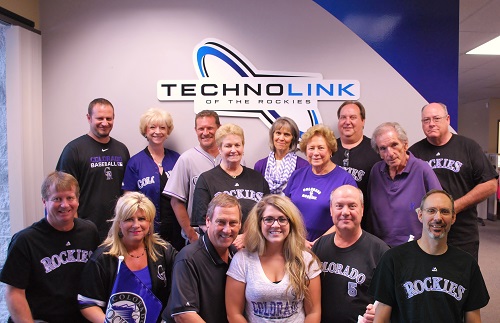 Executive Team
Cheryl Kassner
Owner & CEO
Cheryl is responsible for the strategic planning and direction of Technolink, as well as the management of all aspects of the company.
Cheryl's experience began in customer care, project management, training and sales. She has learned the importance of maintaining a customer focus to ensure their high level of satisfaction by implementing systems and procedures.
Although Cheryl's extensive work experience is in the telecommunications industry, Cheryl originally received her Bachelor of Arts degree in Special Education and Elementary Education from the University of Northern Colorado. This speaks to Cheryl's true passion for helping others. She is actively involved in many charities in the community, most notably through her tireless efforts and presence in the Gary Plumery Foundation of which she is Vice President. She projects her passion for helping others and has instilled in Technolink of the Rockies a sense of high corporate social responsibility which is evident through the company's meaningful involvement and contributions within the community.
Among her many titles, Cheryl is a dedicated wife and mother and is passionate about spending time with her family.
---
Jeff O'Neill
Owner & EVP
Jeff's primary responsibilities include Business Development and Leadership to the Sales and Marketing team of Technolink of the Rockies.
Jeff specializes in the customer facing side of operations. His unique ability to not only understand technology but also to understand customer needs and unite the two, makes Technolink of the Rockies the premier provider of unified communications. Jeff's passion and ability to relate to people allow Technolink to constantly offer superior customer service and support.
Jeff's true passion for telecommunications was discovered when he completed a 3rd grade science project on the telephone. He has had a longstanding passion for both technology and people.
Outside of his professional focus, Jeff currently sits on the board of the Anchorage East Condo Association. He has also played a fundamental role in developing the Junior Sailing Program demonstrating his commitment to supporting youth in the community while sharing another passion he has for the water.